Vertical blinds- optimal solution for offices and big spaces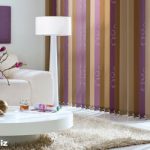 Verticals are an ideal option for large windows in offices and private settings. They leave the rooms open to sunlight and provide an elegant and professional touch. The fine materials used ensure a positive setting wether in offices or at home.
Easy control – high functionality and ornamental looks
Vertical blinds offer a high degree of functionality and at the same time freshen up the room with their light looks.
The controls are kept simple with the most used system being the standard endless chain. Long lamellas ensure sunlight influx if needed and also provide an effective shut out of it. Learn more.
Experiment with colors
Beige and white colors are mostly used in office settings because of their neutral tone which creates a professional and quiet atmosphere. In your own rooms however you can choose out of a wide variety of sparkling colors each tailored to your own tastes.
Size of the lamellas
Lamella width further influences the looks of the whole vertical system. In 89mm size width the system looks delicate and light on the eyes. Best used in small rooms and windows. 127mm lamellas are better to cover bigger window fronts and wide rooms through their sturdier looks.
More information on vertical blinds can be found on the following pages.