Pleated blinds, a jack of all trades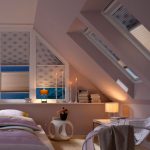 Pleated blinds, also known as pleated shade, offer an effective protection against sun glares while also embelleshing their surroundings. Easy production and handling allow for a high degree of functionallity and low maintenance. Conveniently used in living areas pleats offer a unique style of dimming and darkening.
The variance in functions is achieved by the use of high quality polyester fabrics with different coatings. Fabrics are made out of weaves that look delicate but still offer the resistance needed from a sun protection system.
Transparency levels of pleated fabrics
Transparent fabrics: Lite sun protection but no visual visor.
Half-transparent fabrics: Visual visor, let the light shine through. Effective in soft ligthing settings.
Dimm-out fabrics: Visual visor, highly effective in sun protection and dimming out rooms.
Black-Out fabrics: Visual visor, very effective sun protection, complete blackout. The most optimal blackout effect is achieved with pleating fabrics of the der Duette ®-Collection.
Coated pleated fabrics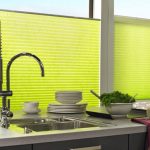 The backsided coating of pleated fabrics plays an important role towards the reflection capabilities of the fabrics. Pearl coatings on half-transparent fabrics reduce the absorption levels of sun beams significantly providing further heat protection. Light levels will not be reduced with this method but especially in spring time and summer the temperatures will be kept at a comfortable level. Similar effects can be achieved with coated dimm-out fabrics which will further reduce the room's brightness. A complete blackout with the highest levels of reflection offer the blackout fabrics with a white coating on the backside.
Installing pleated blinds is a piece of cake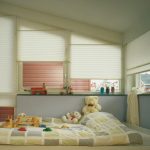 Easy installing is one of the biggest plusses of using pleats. They can easily be fitted into every kind of window setting. Especially skylights, which come in standardized sizes. Special types also present no hurdle for pleats. Wether those are triangled windows or winter garden windows pleats can be fitted to nearly all forms.
Fixed pleated blinds offer an especially easy solution for installing. They are directly mounted onto the window or door infront of the panel. Free-hanging pleats solve all the problems big windows bring with them. Mounted with clam carriers, screws or even glued directly onto the glass fold. Alternatively the can also be mounted onto the window's frame.
Make your pleated blind shine again
Pleated shades are easy to maintain and clean. Take out the fabrics, soften them up in 30°C soap water and shower them off afterwards. In a slightly drawn-in stance you just hang them out to dry. This prevents the loss of color and texture and ensures the functionality of the pleat. Find out more (in German): Waschanleitung für Plissees (PDF-Format)
[supsystic-form id=15]